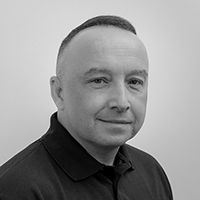 Simon Pridham
Managing Director
Simon spent just over 20 years in the teaching profession as a teacher, Deputy Head and Executive Headteacher.  He developed an interest in independent learning theories after about three years into his career and started to learn that schools should prepare for children and not the other way around.
After becoming Headteacher at Casllwchwr Primary in 2009 he successfully led a wonderful team and school community to a grade one in each of the seven key questions during their ESTYN inspection in May 2010.
Shortly after that inspection he led the school on their mobile device learning programme and as a result the school became the first in Wales to collect the Third Millennium Learning Award in January 2012 and were only one of eight in the UK. Casllwchwr were also awarded the Highly Commended UK Impact Award in the Primary category at NAACE National Conference in March 2012 and were the only Welsh school nominated in any category. They were shortlisted in two categories in 2013 and collected the Global Community NAACE award in 2014 for their work across Swansea, Wales and the UK.
Through this work Simon became a member of the Welsh Government Practitioners Panel, National Digital Learning Council and the WG ICT Steering Group looking at the future of ICT in Wales. His work as the Learning In Digital Wales professional adviser was very rewarding as he was able to construct a stepped approach programme from Primary schools across all sectors to ensure a bespoke Digital Leader programme for Wales.
Simon constructed the international award winning LIFE programme in Swansea and worked closely with Swansea Council and Jeremy Stephens in implementing the programme across the city, gaining incredible cultural and educational change, using technology as an enabler. This culminated in the programme winning both the prestigious Municipal Journal (MJ) Award and an International E Learning Award, beating the Education Services of Australia amongst others.
As Executive Headteacher at the highly successful Casllwchwr Primary for over five years, the school achieved sector leading status across the curriculum and his first book, Freaked Out, was a clear guide to Digital Learning for the bewildered teacher and was released in September 2014 –
http://www.freakedout.eu/
Now as Education Partner at Aspire 2Be Simon is committed to sharing his vast experience in making a difference to clusters of schools, local authorities and working closely with government departments in ensuring a structured and clear strategy to mobile learning programme rollouts. Over the last six years Simon has taken a pride in designing education change programmes globally within his role and also linking large businesses and major sporting organisations to the world of education, for mutual benefit.