Business Administration Apprentice
I am responsible for managing the company's social media accounts. This involves helping to design and create content, scheduling, and ensuring everything is correct and timely. I also report on our social media analytics. This role is ideal for me as my interests include editing videos and streaming, so I get to carry out tasks that I enjoy, as part of my job.
My favourite part of the role is being part of a great team, and being able to work on a wide variety of projects to help expand our social media presence.
A useless skill I have is that I can skateboard and fly a drone simultaneously!
Related Projects, Blogs and News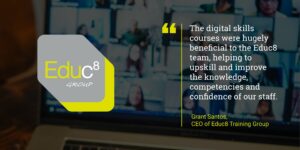 As with many other businesses during the pandemic, the switch
Read More