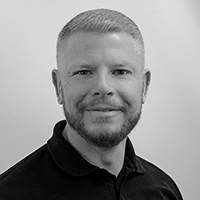 My role is to work with organisations and help them develop a 'people first' digital change strategy, focussing on the digital empowerment of stakeholders through contextualised professional development programmes.  
Prior to joining Aspire 2Be, I was an educator and consultant providing digital consultancy and training to education institutions. I was fortunate enough to work with a team of outstanding educators, facilitating one of the first 1 to 1 device initiatives in England, eventually leading to a National Teaching Award for the innovative use of technology in education.  
My favourite part of the job is helping organisations transform their working practice for the betterment of everyone. It's hugely rewarding to then witness the 'light bulb' moment when people completely change the way they work through new found skills!
Useless skill….is there such a thing?? I have a strange knack for quickly counting the number of letters in a word but I haven't found a use for it yet!
Related Projects, Blogs and News
Aspire 2Be, a multi-award-winning learning technology company, this week announced
Read More