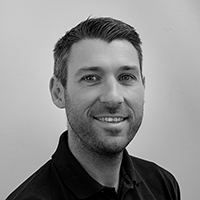 Craig has worked in professional sport for 13 years as a Performance and Data Analyst. His roles include Head Performance Analyst at Ospreys Rugby and previous roles with Cardiff Blues, Scarlets and Wales rugby and football.
Through his work as Head Analyst, Craig was an advocate of player education and development having created various opportunities through the use of creative digital tools to enhance this process. Craig decided to leave professional sport to further pursue his passion for IT and to develop opportunities for better use of digital technologies in Education, Sport and Business. Craig, who is a Welsh speaker, has recently worked at a Welsh medium secondary school to further enhance the use of digital learning tools along with the understanding and implementation of the Digital Competency Framework (DCF) across all curriculum areas to augment pedagogy and learner experience. This was achieved through working closely with senior management to provide bespoke teacher and pupil training in line with whole schools policies and Pioneer School vision.
With the developments of the new curriculum and Donaldson curriculum changes, Craig believes that learners should be equipped with the skills required to succeed across all disciplines and through effective and progressive pedagogy we can achieve an inclusive learning experience.
Craig hopes to use his previous experiences across various sectors to combine the ethos and high standards of professional sport in an educational setting, helping to develop a multi disciplinary approach to create an engaging and worthwhile experience for learners, through the use of digital technologies.
Craig is a very keen sportsman having played a number of different sports at a high level. Craig represented Wales at age grade level in football and cricket and played at semi professional level in rugby. He currently plays cricket in the South Wales Cricket Premier League and coaches a WRU Division 1 rugby team.