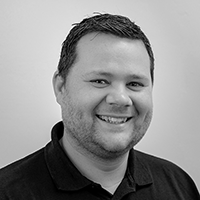 My name is Nick Evans and I'm a Learning Technologist with Additional Business Responsibilities at Aspire 2Be. I work closely with businesses and educational settings to support their digital transformation into cloud based workflow solutions. In addition to this, I am also responsible for the design and delivery of contextual educational resources for clients in the business and sports sectors. 
Prior to joining Aspire 2Be I taught as a primary school teacher, where I developed a passion for working with learners with social, emotional and behavioural difficulties. Through my role at the school I also established a keen interest in the effective use of digital technology and helped embed its use throughout the whole school community. 
My favourite part of the job is the diversity of it all! We work with a huge range of organisations to deliver and wealth of projects, all with the same common goal – to develop and understand how technology can have a positive influence and impact on the world around us. 
A useless skill I have… Not really sure if it's a skill but I'm ambidextrous!