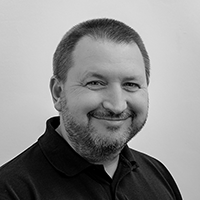 Paul is Aspire 2Be's Technical Architect and joined the company after spending 26 years working within the public sector. Paul's previous role was ICT Service Manager for the City and County of Swansea, providing schools and corporate ICT services.
During his time within the council, Paul oversaw all aspects of day-to-day operational activities, with an emphasis on developing key initiatives to enhance support and development operations. Paul's team was responsible for providing a secure and reliable ICT infrastructure, including Office 365, Google, Active Directory, Security, Firewalls, Mobile Device Management solutions, data compliance and much more.
Paul, worked towards implementing the strategy of consolidating the operations of the council's data centres, strategically migrating systems to cloud based infrastructure designed to provide improved disaster recovery services and reduce cost.