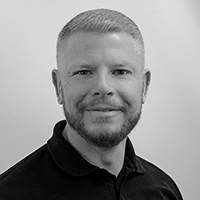 Matt is Programme Manager at Aspire 2Be and joined the company after excelling as a teacher and Computing Co-ordinator at Meadowbrook Primary School, just outside Bristol. As an advocate of the power that mobile technology can have on learning and teaching, Matt has successfully led a large scale implementation of iPads across a whole school setting. His aim is to redefine the learning experience so that students can demonstrate their learning through a variety of creative media, whilst empowering teachers with new and innovative ways of delivering outstanding teaching and learning.
Following the successful use of mobile technology to impact pedagogy and learning outcomes, his school became an Apple Regional Training Centre, providing practical and relevant advice/training on the use of technology in the classroom. Matt is passionate about sharing high quality practice and consequently, was enrolled as an Apple Distinguished Educator (class of 2015), as well as an Apple Education Trainer.
Matt has a keen interest in programming and started a number of initiatives to introduce the concept of computational thinking to his students. As a Computing at School Master Teacher, he works with schools to implement and embed coding across the curriculum, as a tool to enthuse and engage all students.
As well as presenting at various seminars and conferences around the country, Matt was recognised for his approach to technology in the classroom through his selection as a regional winner in the Pearson National Teacher Awards, in the category 'Outstanding use of Technology in Education'. This is testament to his ability to implement a whole school approach that uses technology to provide an accessible and exciting curriculum, as well as providing practitioners with innovative ways to engage their students.
Matt is looking forward to offering an outstanding knowledge base around digital competences to design and deliver a range of training programmes that will have a sustained impact to school development.