Our award-winning services from our education experts covers the Apple, Microsoft and Google eco-systems, as well as bespoke offerings such as media training and computational thinking.

STEP 1
Initial meeting with headteachers, senior leaders and management team.
STEP 2
Stakeholders are sent a pre-request information pack.
STEP 3
Aspire 2Be team asses the information returned and agrees a review timetable.
STEP 4
Aspire 2Be team spends 1 or 2 days on site speaking to all representatives of the school community.
STEP 5
A commentary report is sent to the headteachers, senior leaders and management team.
STEP 6
A strategic workshop is held off site, with the Aspire 2Be team to formulate a bespoke digital plan which is strategically aligned to your development plan and outcome targets.
PREMIERSHIP RUGBY CHAMPIONS
Premiership Rugby brings clubs into classrooms with innovative app for primary schools and teachers…
In collaboration with CITB, WRW and CWIC  – leading organisations in their respective fields and all focussed on promoting skills development through meaningful and contextualised learning experiences…
SWANSEA UNIVERSITY iBroadcast
In collaboration with Sean Holley, Aspire 2Be have worked in conjunction with Swansea University's Employment Zone for the past two years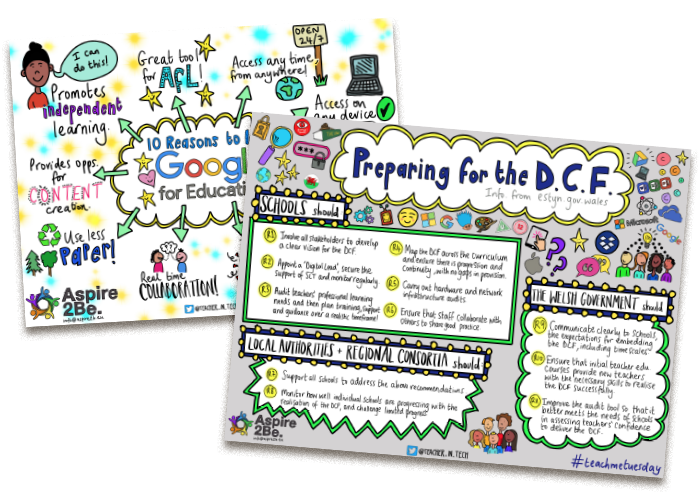 Designed by our resident sketcher, Beth Evans, and completely
to download
Education Partnership Packages
School Cluster & Academy Trust Partnership Packages
The knowledge and expertise of Beth and Craig have been excellent in helping me to see the potential of what I can do.
Being able to bring [Minecraft] into the classroom has been a huge benefit. They have had the chance to explore the platform and then complete Minecraft Education Edition activities that Aspire 2Be and GoConstruct have very kindly created for us. I am very impressed!
Aspire 2Be's staff are friendly, proactive and flexible, their expertise on the Go Construct Experience, Educate and Engage project has been a vital link between the worlds of employment and education. I particularly like Aspire 2Be's willingness to listen to industry and test ideas before enthusiastically getting on with the job.
A very good course with excellent practical application...thank you!