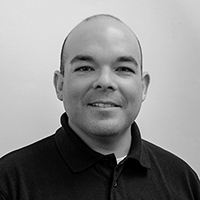 Dean​ ​has​ ​become​ ​a​ ​learning​ ​technologist​ ​after​ ​teaching​ ​and​ ​mentoring​ ​in​ ​three​ ​continents (North America,​ ​Asia​ ​and​ ​Europe)​ ​with​ ​over​ ​18​ ​years​ ​experience.​ ​Dean​ ​is​ ​a​ ​an​ ​OLEVI​ ​certified Outstanding​ ​Teacher​ ​Programme​ ​(OTP)​ ​facilitator​ ​and​ ​has​ ​worked​ ​with​ ​Brunel​ ​University​ ​as well​ ​as​ ​the​ ​Institute​ ​of​ ​Education​ ​(University​ ​College​ ​London)​ ​as​ ​a​ ​PGCE​ ​mentor,​ ​interviewer and​ ​facilitator.​ ​His​ ​passion​ ​is​ ​making​ ​classrooms​ ​student​ ​centred​ ​and​ ​empowering​ ​students​ ​to direct​ ​their​ ​learning​ ​using​ ​technology.
In​ ​Japan,​ ​Dean​ ​taught​ ​for​ ​the​ ​Sobue​ ​school​ ​district​ ​and​ ​incorporated​ ​Audacity​ ​and​ ​Microsoft PowerPoint​ ​to​ ​help​ ​engage​ ​and​ ​empower​ ​his​ ​elementary​ ​and​ ​secondary​ ​English​ ​students.​ ​As​ ​a 4th​ ​grade​ ​teacher​ ​and​ ​PE​ ​coach​ ​in​ ​Katy,​ ​Texas​ ​for​ ​Nottingham​ ​elementary​ ​school,​ ​Dean​ ​was an​ ​advocate​ ​for​ ​using​ ​laptops​ ​in​ ​the​ ​classroom​ ​and​ ​utilising​ ​Microsoft​ ​Office​ ​in​ ​the​ ​classroom. He​ ​was​ ​recognised​ ​for​ ​his​ ​achievements​ ​in​ ​coaching,​ ​teaching​ ​and​ ​the​ ​community​ ​by​ ​the​ ​Texas Parent​ ​Teacher​ ​Association​ ​(PTA)​ ​in​ ​2012.​ ​Dean​ ​helped​ ​to​ ​implement​ ​Google​ ​G​ ​suite​ ​apps​ ​at the​ ​Swaminarayan​ ​Prep​ ​School​ ​in​ ​Neasden,​ ​London.​ ​He​ ​used​ ​Google​ ​apps​ ​as​ ​a​ ​member​ ​of​ ​the senior​ ​leadership​ ​team​ ​and​ ​utilised​ ​sheets,​ ​forms​ ​and​ ​docs​ ​to​ ​help​ ​the​ ​school​ ​gain​ ​an​ ​'Excellent' rating​ ​in​ ​their​ ​Independent​ ​Schools​ ​Inspection.​ ​Dean​ ​also​ ​initiated​ ​the​ ​use​ ​of​ ​Google​ ​classroom and​ ​Class​ ​Dojo​ ​digital​ ​portfolios​ ​to​ ​incorporate​ ​project​ ​based​ ​learning.​ ​Most​ ​recently,​ ​Dean​ ​has helped​ ​to​ ​integrate​ ​Microsoft​ ​Office​ ​365,​ ​Google​ ​G​ ​suite​ ​and​ ​iPad​ ​apps​ ​with​ ​Seesaw​ ​digital portfolios​ ​working​ ​with​ ​the​ ​students​ ​at​ ​Oakleigh​ ​House​ ​School​ ​in​ ​Swansea​ ​before​ ​coming​ ​to​ ​join the​ ​wonderful​ ​team​ ​at​ ​Aspire2Be.
Dean​ ​is​ ​looking​ ​forward​ ​to​ ​work​ ​with​ ​teachers​ ​and​ ​students​ ​to​ ​innovate​ ​the​ ​use​ ​of​ ​technology​ ​in the​ ​classroom​ ​alongside​ ​implementing​ ​sound​ ​pedagogy​ ​and​ ​research.​ ​He​ ​is​ ​dedicated​ ​to helping​ ​teachers​ ​incorporate​ ​technology​ ​to​ ​make​ ​the​ ​classroom​ ​an​ ​open,​ ​sharing​ ​and challenging​ ​place​ ​to​ ​guide​ ​deep​ ​learning.