I help develop bespoke websites, apps and plugins for some of the digital services we provide, as well as maintaining the servers their backend code operates on. I graduated with a 1st Class Honours degree in Software Engineering, and started working with Aspire 2Be as a Software Consultant in February 2020, before becoming a full-time employee with my current role in October 2020.
My favourite part of the job has to be solving the problems and challenges that come with the projects I work on, working with team members to iron out any bumps, and ensuring that the final product is as bug-free and as smooth as possible.
As for my useless skill, I'd have to say it was being able to "vibrate" my eyes causing them to shake very quickly, which does absolutely nothing for my eyesight or the comfortability of those around me!
Related Projects, Blogs and News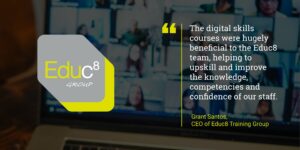 As with many other businesses during the pandemic, the switch
Read More