I am responsible for planning, managing and executing our Sales and Marketing activity, and working to ensure Aspire 2Be are at the forefront of our industry.
After graduating with a Masters degree in Management, and completing further professional qualifications in Marketing and Digital Marketing, I went on to work in many Marketing, Sales and Project Management roles for companies including Tata Steel. I was fortunate enough to have the opportunity to work in roles both across the UK and in the Netherlands.
My favourite part of the job is working within a team with a huge range of skills and experience, and being able to constantly learn from my colleagues. It's great to have the freedom to develop ideas and possibilities, and work within a progressive, dynamic business.
A totally useless skill I have? I'm a silver medallist at the world husband dragging championships, and fastest local female bog snorkeller!
Related Projects, Blogs and News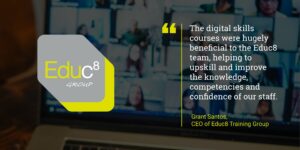 As with many other businesses during the pandemic, the switch
Read More