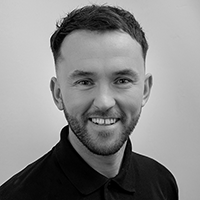 Ryan has been teaching and supporting children with additional learning and emotional needs for 7 years. It is his firm belief that when learners are presented with inspirational positive teaching and learning experiences it enables all learners at all stages to engage in the learning process and to achieve their full potential.
His teaching career began as an ICT teacher at Ysgol Bro-Dinefwr (formerly Ysgol Tregib) in Llandeilo before going on to become a Head of Faculty (ICT, Maths, Science and PE) at Rhydygors SEBD school in Carmarthen. Ryan developed several whole school policies and strategies to support a wide range of ALN needs, impacting at whole-school level. Ryan was deemed a lead practitioner at the school by ESTYN when they inspected in 2015.
Whilst in these roles, Ryan worked with undergraduates from several Welsh Universities. This involved delivering workshops focusing on ALN, in particular behaviour, emotions, attachment and engagement.
Ryan has completed the ILM level 5 qualification, is a qualified PROACT-SCIP®uk instructor and is also constantly trying to improve his Welsh skills.
Whilst working at Rhydygors, Ryan developed schemes of work that delivered ICT and PE to pupils deemed as having Social, Emotional and Behavioural difficulties and who had previously been excluded from mainstream environments. Ryan's philosophy and passion for excellence enabled all pupils under his guidance to consistently achieve the highest outcomes possible from KS2 up to KS4.
There are many ways in which technology can be used in any classroom to engage students and facilitate exciting, engaging and interesting lessons. From filming peer assessments and green screen edited videos to uploading group discussions and radio shows to podcasts, Ryan has primarily used technology in the classroom to aid independent learning. Motivating both colleagues and pupils to try out a wide range of emerging technologies has lead to great experiences across all subjects under Ryan's supervision.
Within the SEBD sector in Wales, Ryan recently developed the Lottery funded 'iFit' project. The project was set out to develop both ICT and PE skills whilst also having a positive impact on participation and achievement within PE lessons using various software packages.
Outside of the classroom, Ryan is a UEFA affiliated coach working with Swansea City Academy youngsters and at Welsh League level with seniors.
Ryan is committed to sharing his knowledge and experiences with staff and students in order to create a positive learning environment where both teacher and student achieve goals with confidence, achieve a growing mutual understanding and where both are fulfilled.